FRANK GAMBALE FG1 CARVED TOP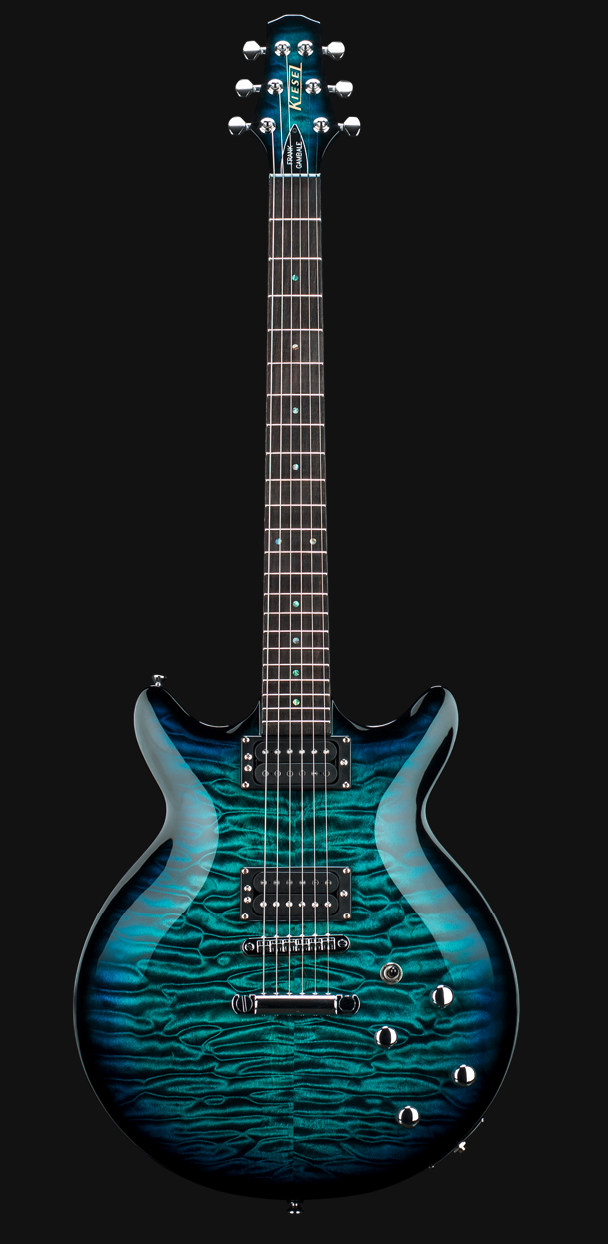 Kiesel worked very closely with Frank Gambale in the development of the FG1. This guitar is a true Carved Top Semi-Hollow Double-Cutaway instrument.

The genuine Mahogany body is chambered and features a premium
carved Curly-Flamed Maple top. The FG1 neck profile and heel are custom sculpted to Frank's specifications which makes for very comfortable playability and total access to all 22 frets.

Frank chose the C22B pickup for the bridge and worked with Carvin to develop the FG22N neck pickup. This exquisite instrument is extremely versatile and will handle all music styles from jazz to rock.



"The lead tone from the FG1 is so fat, round
and warm – it's crazy beautiful! Kiesel built
me the guitar I've always dreamed of...
I LOVE this guitar."
-
Frank Gambale



FG-1 FEATURES

• Premium Mahogany set-in neck & body with highest quality 20mm Flamed Maple carved top
• Natural body binding effect
• Matching figured Maple headstock overlay
• 24k Gold plated CARVIN logo on headstock
• Sperzel locking tuners
• 25" scale ebony fingerboard
• Custom Frank Gambale neck profile
• Custom Frank Gambale lower neck heel
• Abalone dot inlays

• Vintage size fretwire (.043" tall x .080" wide)
• FG22N Frank Gambale neck pickup, C22B bridge pickup
• 3-way pickup selector, separate volumes and tones for each pickup
• Push pull tone controls for each pickup offer humbucker or single coil modes
• Body size: 14.1" wide, 1.85" thick at edge, 2.35" thick at center
• Back of neck and body matches translucent color of top
• Triple step, stained colors for extra depth

FRANK GAMBALE FG-2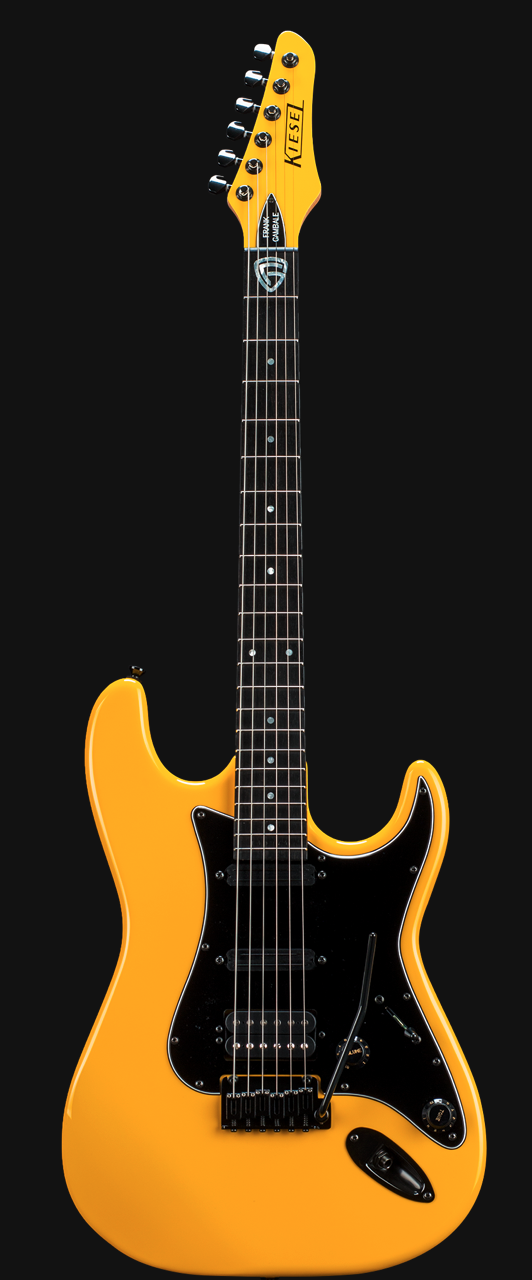 The FG2 is a spin on the Delos, featuring Gambale's perfect specs and exclusive signature inlay. Standard specs include Frank Gambale Pearl Yellow, Beryllium bridge pickup, and a 14-inch fingerboard radius.

BODY: Alder With Frank Gambale Pearl Yellow Finish< BRIDGE:Gotoh 510 Tremolo
CONSTRUCTION: Bolt-On
DIMENSIONS:38.25" Long, 1.65" Thick Body, 12.5" Wide Body
ELECTRONICS:Master Volume & Tone Controls, 5-Way Pickup Selector
FINGERBOARD: 14" Ebony
FRETS: 22 Regular Nickel Fretwire, .043" High X .080" Wide
HARDWARE:Black
INLAYS: Frank Gambale Signature Inlays With Standard Black-Ring Luminlay Super Blue Side Dots
NECK: Tung-Oiled Maple With GT-Style Inline Headstock Painted To Match Body, 2-Way Adjustable Truss Rod And Dual Carbon-Fiber Rods For Additional Strength & Stability
NECK WIDTH:1.68" Wide @ Nut, .780" Thick At 1st Fret, .870" Thick At 12th Fret, 2.22" Wide @ 22nd Fret
PICKUPS:Kiesel Beryllium Bridge Humbucker; Dual Twinblade Humbuckers In The Middle And Neck Position
SCALE LENGTH:25.5"
TUNERS:Premium Locking Kiesel Guitars Tuners, 19:1 Ratio
WEIGHT: 8 Lbs


"I was missing the single coil sound and so I asked Jeff to conjure up an awesome
guitar, semi-traditional it must be yellow and it must have my logo in pearl on the first fret!

-

and so the Kiesel Frank Gambale FG-2 Limited Edition was born...and it was good...really good!